The Golden Haand Weaving Centre in Finsterwolde combines research, production and promotion of handwoven textiles. At our weaving centre you can also learn the weaver's craft yourself.
Weaving creates a sense of peace and order as well as useful results. In these hectic times full of stress and digitalisation this is quite a special experience.
I am Mirja Wark and I have been weaving all my life. Many years of travelling the globe have yielded a treasure trove of fabrics and techniques which I would now like to share with others in lectures, classes and exhibitions.
Who is Mirja Wark
Weaving is my passion. Wherever I have lived, I always wanted to know how weavers work and what techniques they use.
I have attended several international courses in general weaving and weaving as an art form. After studying in the United States and Belgium (Ghent), I ran the handweaving school De Binding in Utrecht for six years.
When I was living in Venezuela, Oman, Syria and Libya, I studied traditional textile techniques, organised textile excursions and designed special handwoven textile art.
I also wrote Si'ira, a book about a special belt, the si'ira, woven by a people of handweaving artisans, the Wayuu. They live in the border area between Colombia and Venezuela.
Philosophy
Beautiful materials, made with love
Four towels for a tenner at the Textile Super. But it wasn't always like that. Our grandmothers used to save a long time for their trousseau of linens, towels and tablecloths and they used them for the rest of their lives. They proudly embroidered monograms on them so that their items would be recognised on the communal village laundry drying square. Even further back, before our great grandmothers' time, people grew their own flax to produce fibres. The women spun these into linen yarn and wove linen shirts from it.
Until the early eighties it was normal to buy a woollen blanket only once in your life. And even that was a luxury. Before then, people kept sheep, which were shorn once a year and the wool was spun into yarn from which they wove blankets.
Today we buy a duvet and a duvet cover for little money. Whenever fashion changes, we get rid of it and buy a new one.
I want practical textiles to evoke the same feeling that lovingly made beautiful materials evoke. These are fabrics you hold in your hands every day. If they are beautiful, they improve the quality of life. It is special when an effort is made to make products by hand, when beautiful materials are chosen and attention is paid to colour and design, and when time has been spent on them.
Prices for products created this way can never be low. However, on the other hand, they last much longer and they never stop being interesting.
Many people have never experienced what it is like to make something yourself from scratch. It is a process that is deeply satisfying. I would like to share that feeling with others. That is why I teach traditional weaving.
Lectures
By frequently moving, I experienced many countries and cultures first hand.
For me, those periods in remote countries only made sense when I studied the textile culture. It takes a long time to learn a foreign and sometimes difficult language such as Spanish and Arabic. But every hour of study was richly rewarded with meaningful contact with local people. I was their guest and we exchanged experiences.
I give lectures about my experiences for groups. I do this with images and textile items.
A lecture costs between 150 and 300 Euros, depending on the duration, the number of persons in the audience and the distance from my home. The rate includes travel costs. The subject matter can be adapted.
Exhibitions of handicrafts from these countries can also be organised. Prices on request.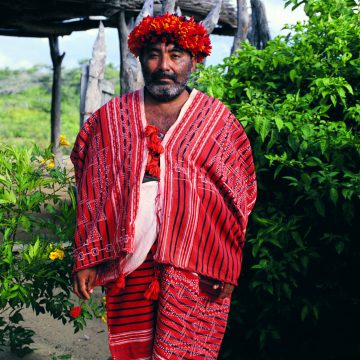 Wayuu lecture
(Venezuela / Colombia)
Oman Lecture
Syria Lecture
Libya lecture
Research
Living in different places around the world has resulted in a large collection of hand-woven textiles, as well as a knowledge of various and often surprisingly simple techniques.
I regularly publish articles about these experiences in the magazine Handwerken Zonder Grenzen.